Experience good games, come to Miracle Games Store!
MG store has gathered many game products, and has been constantly updating the latest and most popular games. Players can find their favorite games here. At the same time, it supports cross-platform interoperability of Win10 PC and Android mobile accounts, and provides users with the best quality service experience. Welcome to download for free! Here is Players Honor Top 10 on the MG Store this month:
[Omega Zodiac List]
This month, the ranking of "Omega Zodiac" has not changed much. The player from the United States "Nike" still firmly occupies the top position of the battle list. Players in the second and third positions are players from Canada." Lynuma", and French player "Kaah". Other players who want to surpass them need to continue to work hard.
In the "Omega Zodiac" ranking list, four players have reached the full level 200, and the levels of other players are also very close. I believe that more players will join the full level team next month.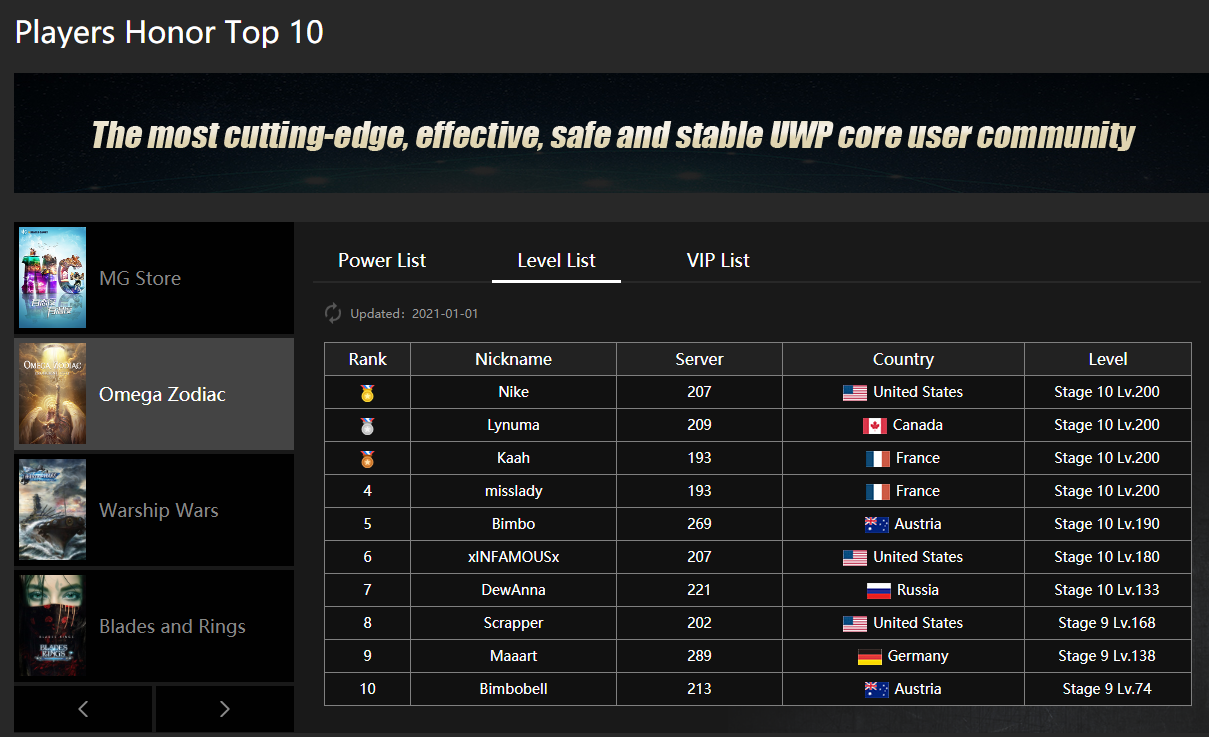 This month, the only player who rushed to VIP10 in the "Omega Zodiac" VIP ranking is still "Nike", who deserves to be the hardcore player of "Omega Zodiac".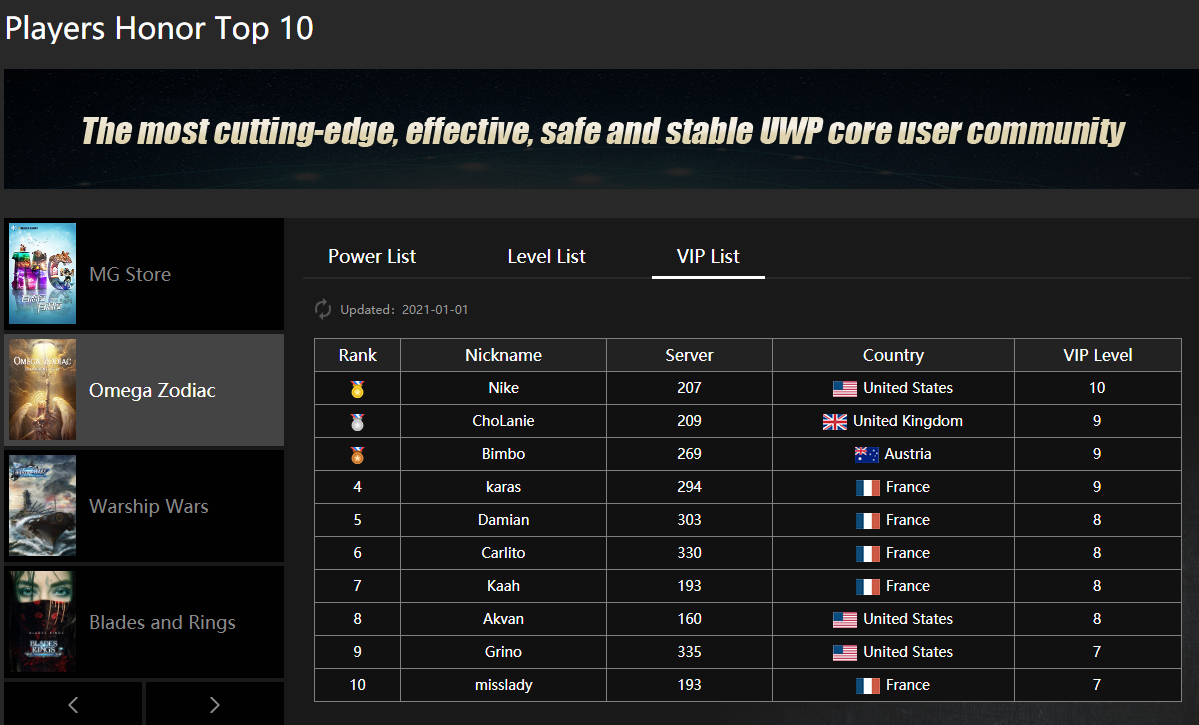 [Warship Wars List]
In this month's "Warship Wars" power list, "東方不敗" and "ALAN" still occupy the top two positions, and their power is still increasing. Other players who want to surpass them need to put in more effort.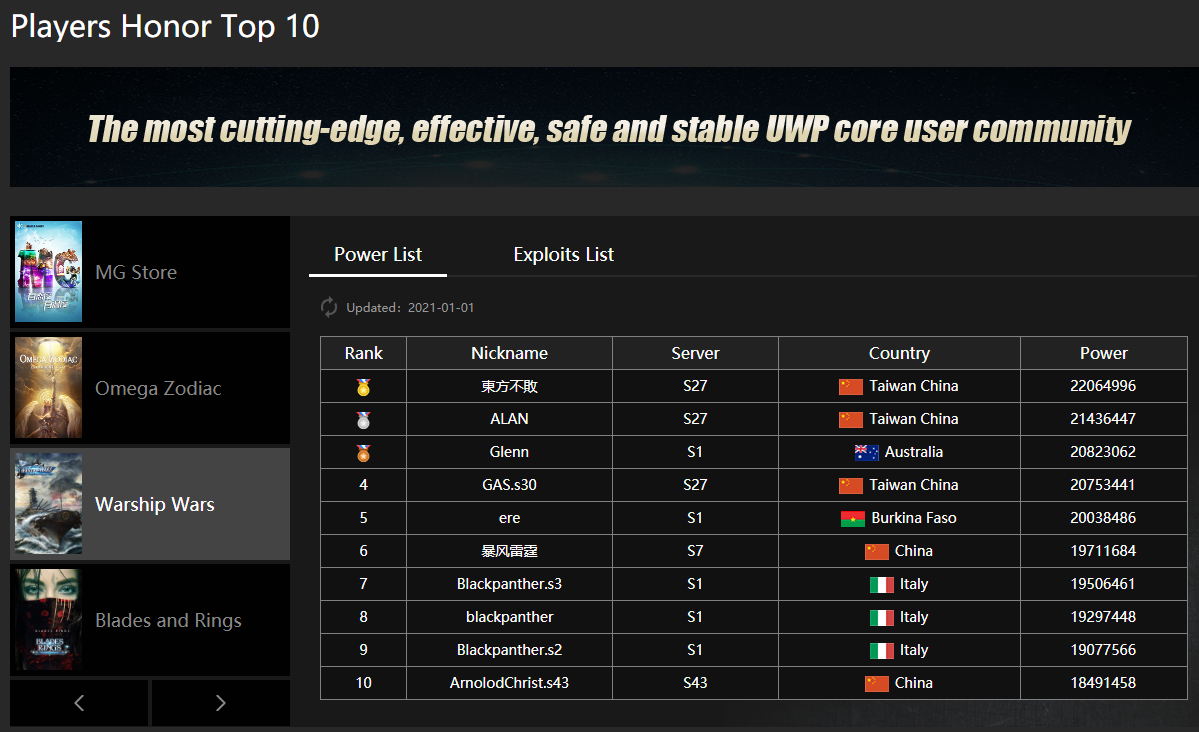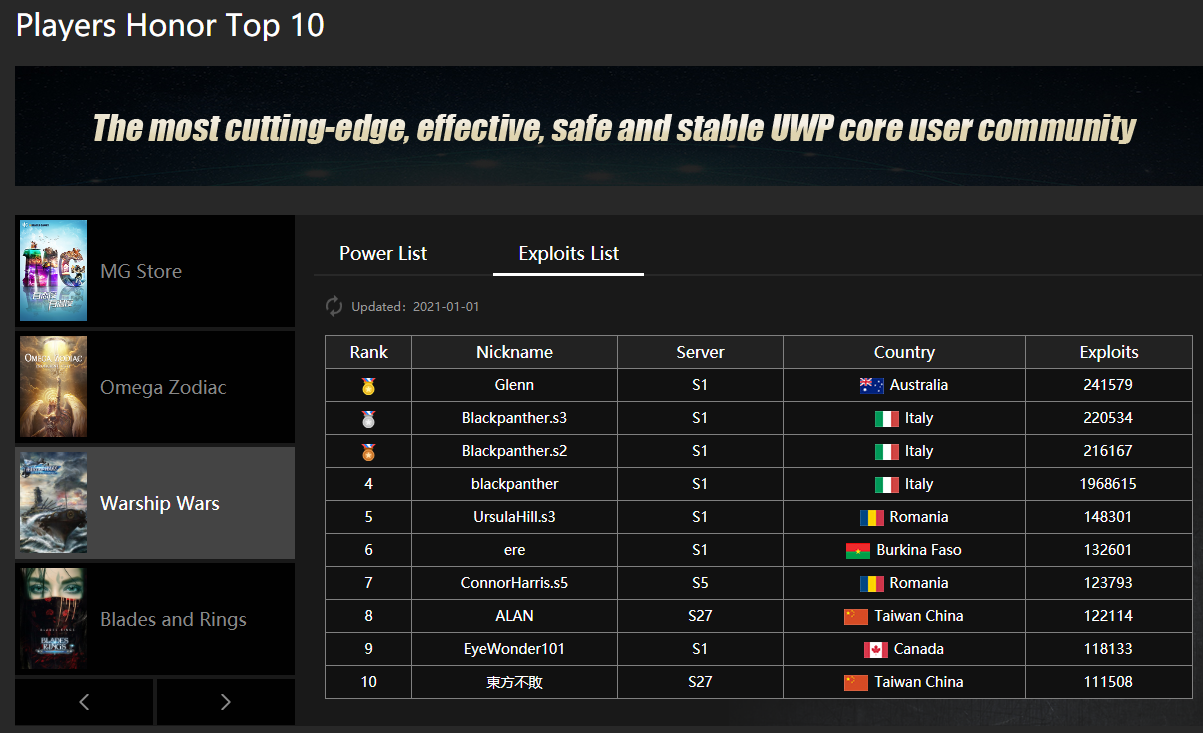 [Blades and Rings List]
This week, the player "Anita" finally surpassed the player "R3qui3m" who was the top player in the perennial battle, and became the new overlord of the server. The nearly 1,300,000,000 increase in combat power in just one month shows the dedication and effort behind it.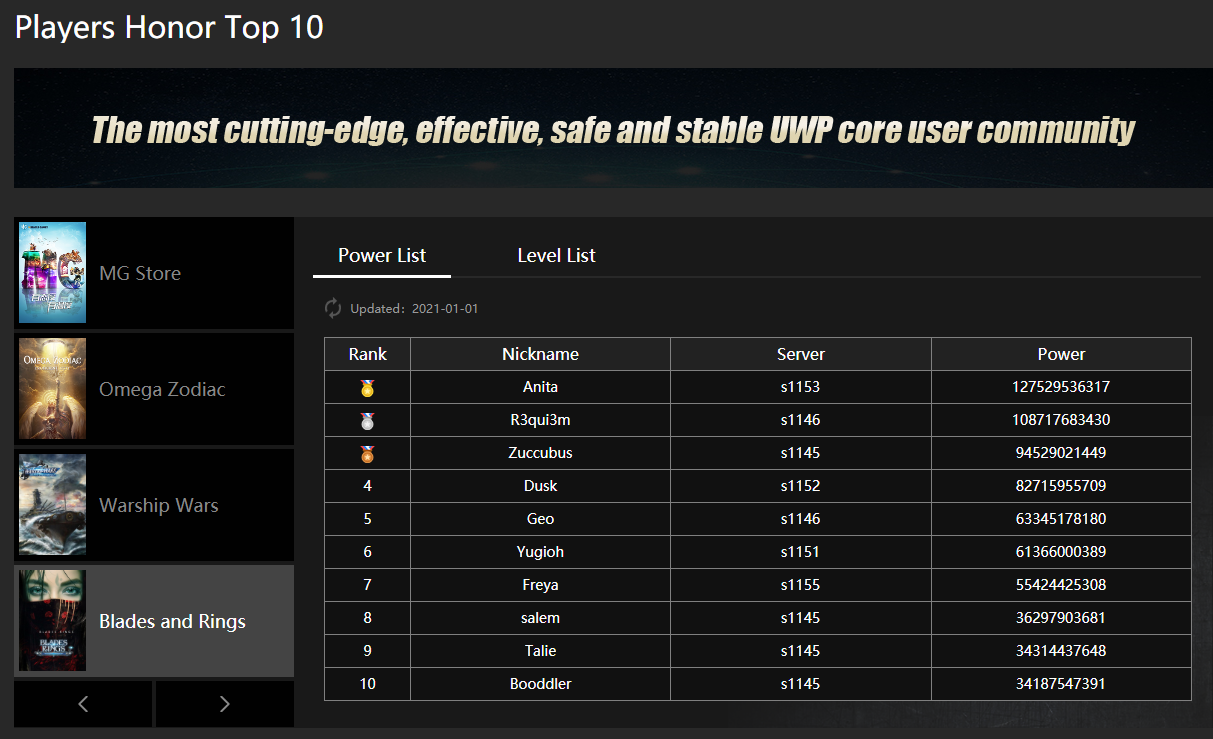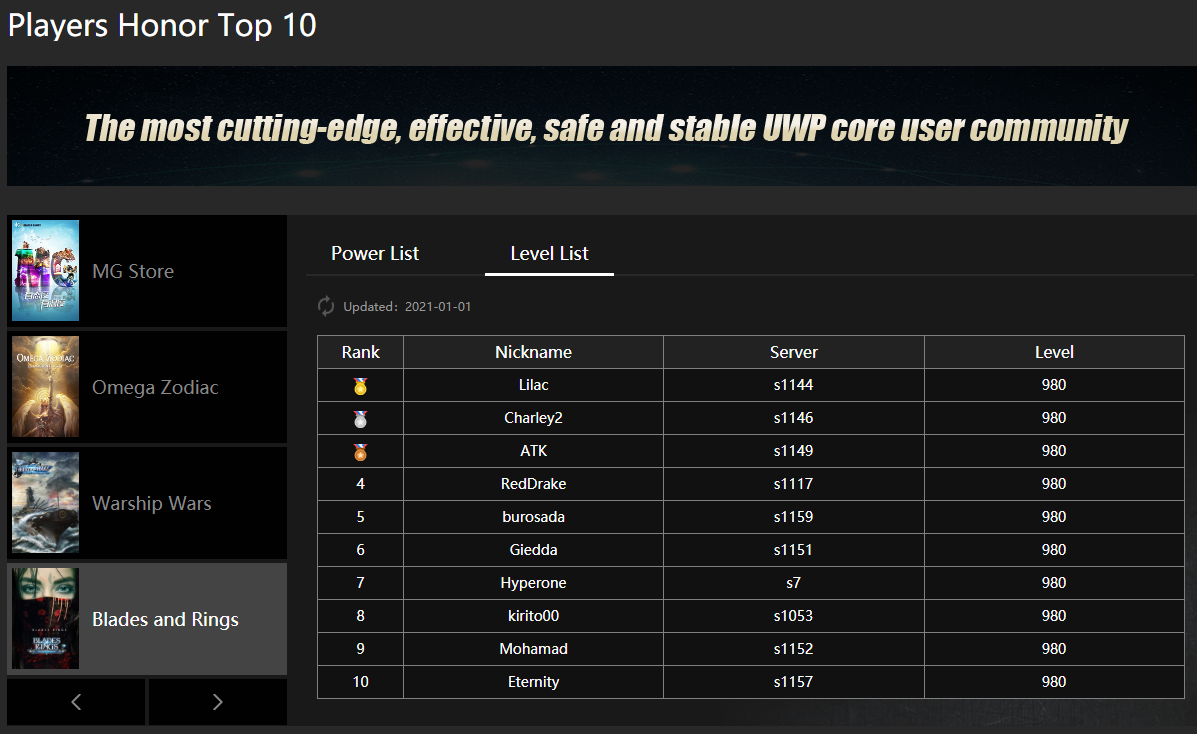 [MG Store This Month Rich List]
This is MG Store This Month Rich List: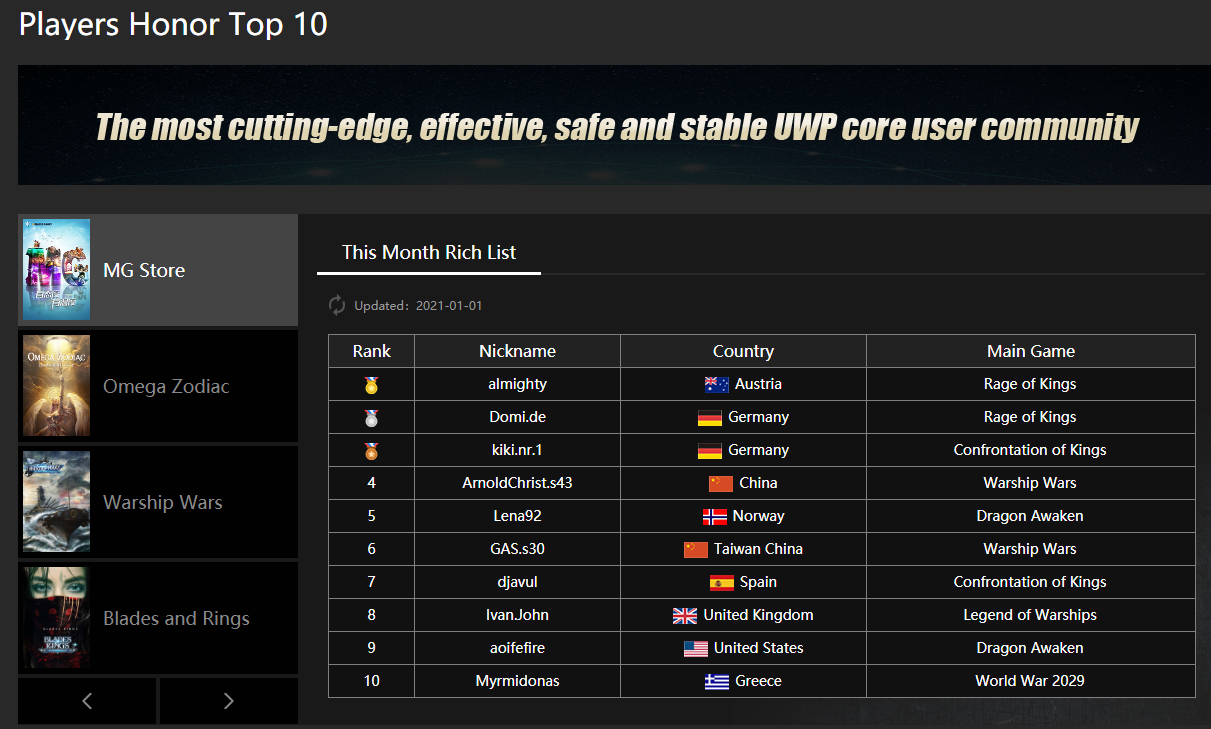 Omega Zodiac Official Website: [Click to Enter]
Omega Zodiac Win10 Download Link: [Click to Enter]

Warship Wars Official Website: [Click to Enter]
Warship Wars Win10 Download Link: [Click to Enter]

Blades and Rings Official Website: [Click to Enter]
Blades and Rings Win10 Download Link: [Click to Enter]
Blades and Rings Android Download Link: [Click to Enter]