Experience good games, come to Miracle Games Store!
Dear president, here are the second part of main activities in Legend City:
· Ultimate Battle System
Function Entrance
The Ultimate Battle in the Main City page, you can unlock after reaching a specific level.
Introduction
Complete the stage battle to earn rewards. The higher the level, the higher the power requirement.
Stage
The stages can be divided into Common Level and Elite Level. After winning the battle in Common Level, you can gain rewards and win a piece of Honor Medal. Elite Stage can grant multiple Honor Medals. You can obtain the Honor Medal As long as you meet a specific conditions, you can gain Honor Medal after clearing this stage. When you haven't reached 3 Star in Elite Stages, you can challenge it repeatedly. When the stage reaches 1 star condition, you may continue to challenge the next stage.
Honor Medal
After reaching a specific amount of Honor Medal, you may gain additional reward items.
Ranking
The ranking will be generated based on the amount of Honor Medal that the player has acquired. The rewards of the ranking will be settled at 0:00 daily and issued.
· Social Activity System
Social Activity
The function is available after the player reaches a specific level.
Module
Social Activity is divided by three modules: Social Hall, Dating Profiles, and Gift Room.
Social Hall
It includes the relationship and leaderboard between the players. In Social Hall, the player can check the Homepage of other players, add Friends, send gifts, or leave a message Charm Conquest and Pride Ranking.
Dating Profiles 、
Set Personal Front Page, view and reply to other player's comment.
Gift Room
You can exchange for items with Popularity Coin or view other player's gifting situation in Gift Room.
· Pinnacle Throne
Competition Area & Registration Quotas
Servers which participated in one battle season, are collectively referred to as a Competition Area. Each competition area shares 128 registration quotas. The Top-20 active players in the battle power rankings will automatically register to this event after Pinnacle Throne starts, and other players need to register manually.
Match Groups
128 contestants from each competition area will be divided into 16 groups in the qualifiers. Each group selects 1 victorious player to enter the promotion match. The promotion match will be divided into 2 groups, each with 8 contestants, and the winners of each group will have the final 1v1 Champion's Duel.
Event Duration
Each season of Pinnacle Throne lasts for 2 weeks, including 3 parts: Registration - Qualifier Battles - Championship Duel.
Qualifier Battles - Championship Duel lasts for a week. After the Duel concluded, current battle season ends, and it will be off for a week.
Next season's Registration will be opened on the Saturday of the off-week, then the new Pinnacle Throne event starts.
Winner Bet
Each battle can be Bet once, Bettor need to invests a certain amount of Cash to guess the winner, if it is correct, will get Doubled Cash as reward.
Championship Effects
After the Championship of Pinnacle Throne is produced, the Champion Boss can bring Overseas Properties output bonus to all players from same server, effects will last until the next Pinnacle Throne starts.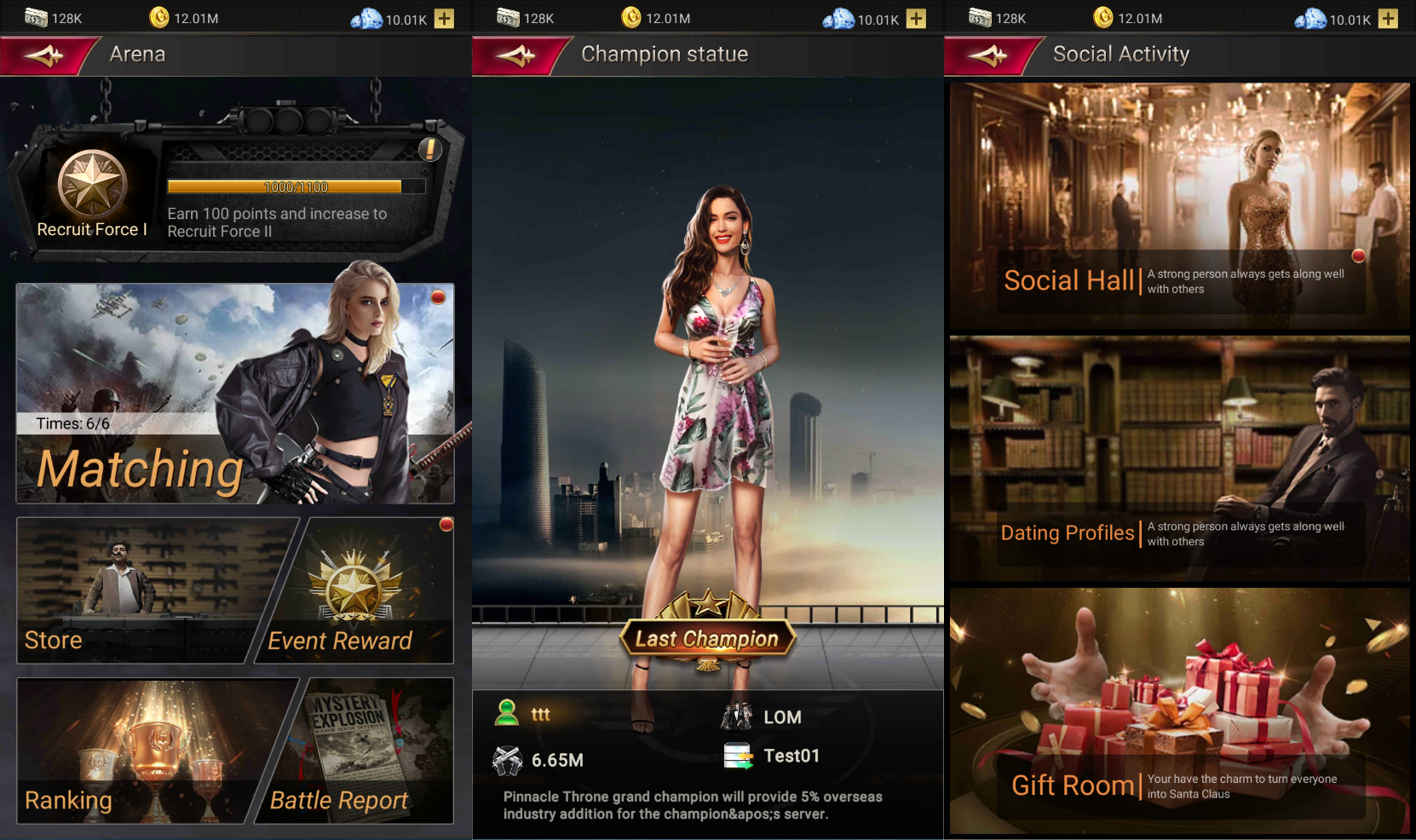 New server will be opened everyday, come and download the game: [Click Here]
Gift package: https://www.mguwp.com/gamegift/400ECAA759
Facebook:
https://www.facebook.com/MiracleGamesLegendCity/
(Follow FB to get more gift packs)
Discord:
https://discord.gg/tVFXZwp
Email: Support@mguwp.com
MG Help + support:
https://support.mguwp.com/